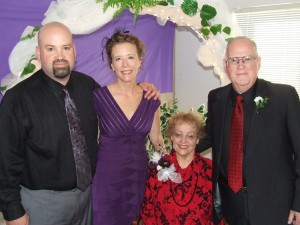 So. A few weekends ago we had a big party for my in-laws 50th(!) anniversary. They got married on my father-in-law's birthday, so it was a double party. And woah nelly, what a shindig!
They got married when they were young and had no money, so their wedding wasn't a fancy affair. Certainly nothing that would make it to a cable reality show. No billowing white dress, no themed party favors, no elegant catered reception – just a simple ring and heartfelt vows and a new adventure together. They've honored those vows through thick and thin in good times and bad, in sickness and health, learning and growing and making mistakes and forgiving them, for 50 years and have come out the other side best friends and still googly-eyed in love with each other. A beautiful example of marriage! If you've had the pleasure to meet Gay and Maynard, you know what I mean. They are fantastic.
Their kids wanted to honor them with a bit of what they missed the first time around. A beautiful reception in a banquet hall with all the trimmings – candles and twinkle lights and sparkling glassware… a photo area for portraits with all their guests… a non-catered, but elegant and gorgeous buffet… a cake toast and a regular toast… a slideshow set to music… a stay at a fancy suite at a BnB
We've been talking about this for the better part of a year, and really started cranking on plans in August. A thousand emails, task lists, phone calls, shopping trips, and "doily days" (what I called the days of crafting and designing centerpieces, etc. etc.) later – we were ready! The kids, spouses, and grandkids arrived at 9 am to set up. By three o'clock the rather uninspiring church multipurpose facility had been transformed into a beautiful banquet hall, and my in-laws spent the next few hours alternating between gasping, laughing, and crying. (NOTE: click photos to view larger.)
Look.
After we got a bite, their pastor and each of their children gave beautiful toasts and tributes.
A personal favorite moment for me was when they did the cake toast. This was my first attempt at baking a paleo layer cake from scratch. Similar to the picaken for tyson's birthday, this was all new everything – new kind of cake, new techniques, new levels of fanciness – I mean, this thing had to be fancy enough to evoke "wedding cake". I did NOT want my contribution to the party to end up on Cake Wrecks!
When planning my tasks, I'd left two days for dealing with cakes, but of course that ended up being a day and a half when all was said and done. I was stressed and running out of time and had several cake and frosting disasters. One cake fell so hard it turned itself into a pancake. Lord Almighty! And "paleo" buttercream. Um. No. At least, I couldn't make it work.
Fortunately for me, I have the Internet – which showed me a delicious stabilized whipped cream frosting (also a first time thing for me – gah! Why do I keep doing this to myself?) AND I have Tyson! Who a) can stay level-headed in a crisis, and be very kind and calming to his freaked out wife, and b) grew up with a cake decorating mother and somehow retained all sorts of cake-related tips and tricks. He knew all about where to buy cake rounds and how to prep and stack and frost and transport. It was amazing. Seriously, without him I'd have ended up crumpled in a corner of my kitchen floor, covered in coconut flour, and weeping. As it was, I was still laughing (and freaking out) at 1:30 am as I frosted my last cake.
And they were delicious. Ha! (My mother-in-law thought they would be totally gross and weird, but was being a good sport about it all, since I'd worked so hard. The look on her face when she took that first bite and discovered that it was good? Hilarious. #awesome!)
And my sister-in-law took humble white cakes and turned them into works of art.
All in all, it was a beautiful day celebrating the amazing lives and marriage of Gay and Maynard Wright. I am so thankful for them.
See? Fantastic!
(Good Photo by the lovely and talented Jenny Arnez.)